Ro Little's BodyWeight Blast 8 Week Program
About
Your BODY is your EQUIPMENT as we BLAST the FAT!
8 weeks of  YOU, Me, your Energy, your Awesomeness, and your Sweat!
No equipment is needed in this program as we focus on burning calories, scorching fat, and having tons of fun!
Full Workout Videos
There are 8 workouts in this program, available online 24/7 when you're ready to work! They're approx 30 minutes each, and include the full workout -with warm-up and cool down. Designed for ALL fitness levels, with limited space, and NO equipment needed!
What's included with the BodyWeight Blast! program:
8 Week Workout Calendar
Check the calendar for the day's workout. Phase ONE is BLAST with 4 days a week … phase TWO heads into DOUBLE BLAST, upping the intensity to 5 days, and optional double workouts. The calendar lays it all out for you. TIP! Print it so you can add a sticker each day when complete = MOTIVATION!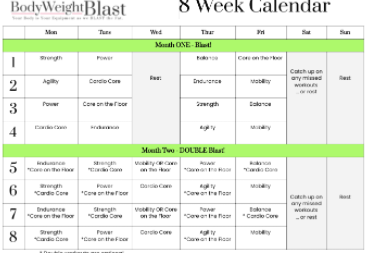 Workout Tracker Sheets
This program is about PROGRESSION. Getting better and stronger each day. Use these tracking sheets to track your modifications, intensifications, and your comments throughout your workouts. Watch for your progressions – and let them motivate you to keep going